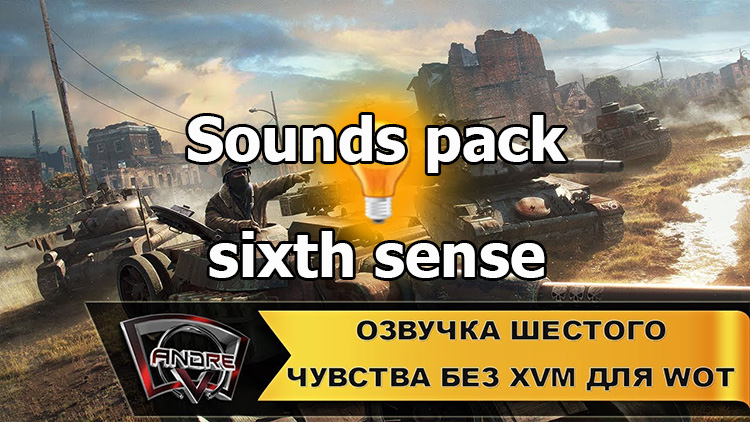 Sounds pack of the sixth sense for World of Tanks 1.22.0.2 [without XVM]
Description
This time, famous modders such as Ekspoint and Andre_V put their hand to the creation of the modification presented to your attention this time, and this is a reason to familiarize yourself with a certain quality mark!
The modification "Sounds pack of the sixth sense for World of Tanks 1.22.0.2" will surely be useful to each player, regardless of the number of battles and the skill level. After all, everyone had situations in battle when, in the heat of battle, they could not react in time to the icon of the sixth sense. Choosing the appropriate high-quality sound of the Sixth Sense bulb, you can respond to it many times faster, not to mention the pleasant atmosphere and good mood that can appear when using this mod! Indeed, in this dubbing the player is presented with a huge number of different options from cool movies, games and even programs! Here the oldfags will also meet sounds from ICQ, Super Mario, everyone's favorite Worms, as well as the voices of the Predator and R2D2 and much more. In addition, the mod is autonomous and functions quietly without installing XVM.
Voice selection
You can see the whole set of soundings of the sixth sense, test and choose your favorite right in the hangar. We go into the settings, then the sound tab and in the lower right corner the option - Sound of the Sixth Sense. An example in the screenshot below.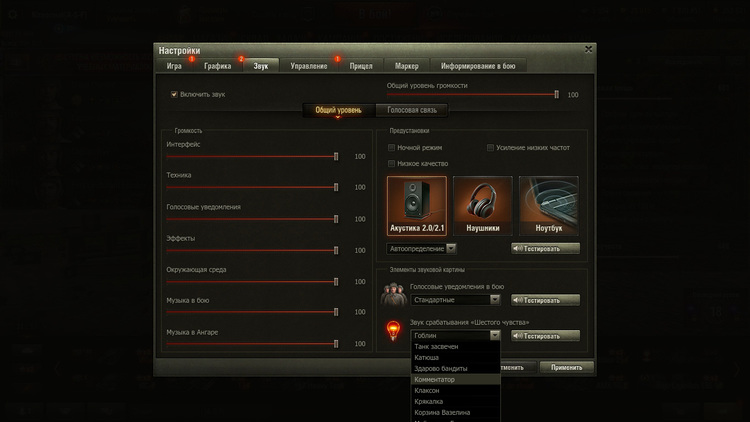 Video
Installation
Copy the mods folder to the World of Tanks folder.