Changelogs
adaptation to 1.23.0.0
new skins added
Description
If you are interested in improving your combat effectiveness and sometimes saving even the most hopeless battles, you most likely cannot do without the time-honored game modifications of World of Tanks that are already familiar to many players. Breaking through zones is one of such mods that simplifies life even for experienced players, and for beginners who have just begun their acquaintance with the game, even more so. A negative feature of this modification, which keeps many from installing it, is that unrealistic brightly colored zones on the tank hulls, for all their usefulness, spoil the whole atmosphere of the game.
It is for players who prefer minimalism and a more stylish design of tanks an excellent alternative to steel - Contour skins of "Korean Random" penetration zones for WOT 1.23.0.0. Skins with vulnerable areas are made in white, well-read color, and show where the crew members and vulnerable modules are located. With such information, you can not only cause damage to the machine, but also deliberately weaken the enemy in a duel, knocking out a tank gunner or engine. And in special cases, and having blown up the ammunition with successive shots.
The disadvantage of this set of skins is that it contains only all tanks of the 8-10 level and some badly pierced tanks of the lower levels, such as T28, ARL 44, IS, T34 and others.
Value icons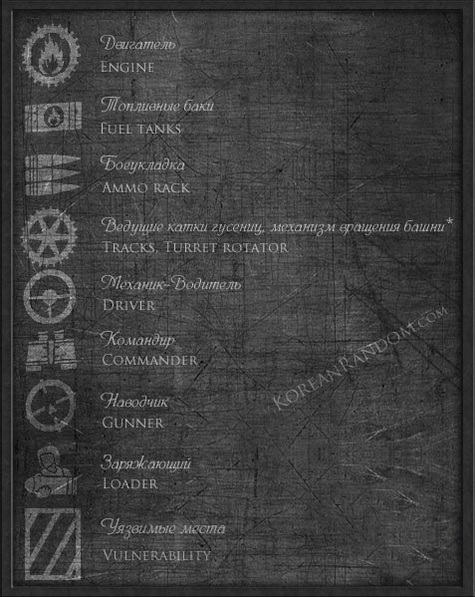 Screenshots
Installation
The mods folder is copied to the World of Tanks game folder.