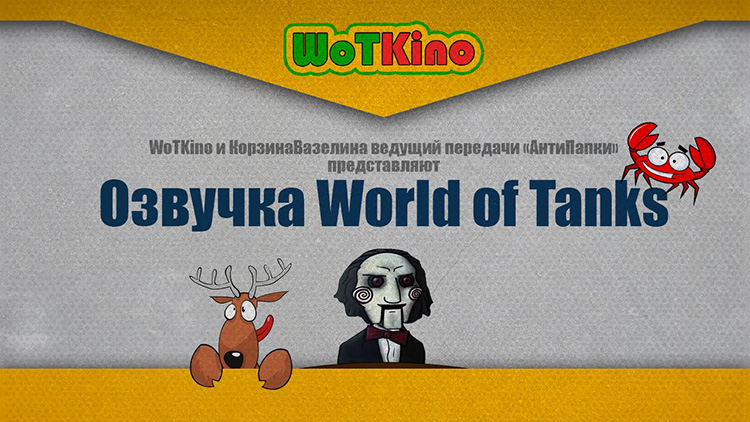 Voice pack "WoTKino" for WOT 1.22.0.2
Description
This time presented to your attention Voice pack "WoTKino" for WOT 1.22.0.2 - the ideal choice for viewers and fans of the WOTKino channel! Many subscribers at one time asked Evgeny Belov to make the author's voice acting for World of Tanks. After that, it was made in collaboration with the host of the Anti-Folder program - Vaseline Basket. Well, what else is needed for high-quality, fun and cheerful voice for the game World of Tanks from video bloggers?
This voice acting has no thematic coloring, but at the same time it is still interesting and original. The authors of this voice acting have collected more than two and a half hundred interesting and fun phrases that completely more than replace the original voice of the crew in World of Tanks and plan to complement. Although at the moment there is enough of their diversity, so that when repeating events in battle the same phrase does not sound twice in most cases.
A considerable advantage of this voice acting over the rest of the author's cheerful and amusing alternative voice-overs of the crew is that it completely lacks any obscene language or unacceptable expressions. So you can safely play with her in the presence of children, and in the presence of parents or work colleagues. And the installer will help to install this pack of sounds into the game, even to people who are quite uncertain about using computer equipment.
Video
Installation
The contents of the archive placed in the folder World of Tanks/mods/1.22.0.2/