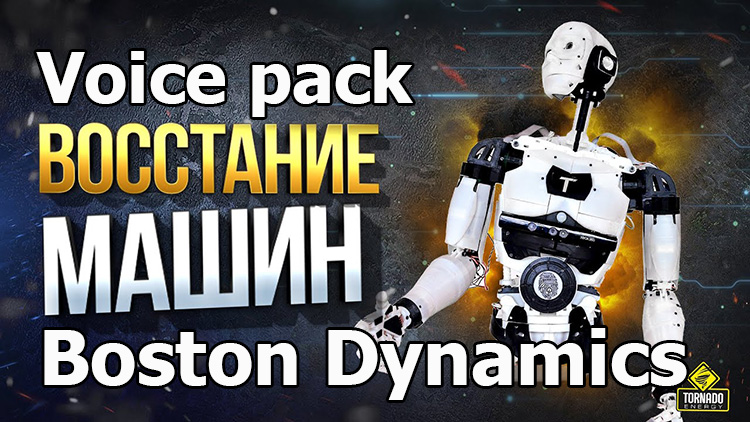 Boston Dynamics Voice pack for World of Tanks 1.22.0.2
Description
Today it is difficult to surprise someone with a new good voice acting, because a huge number of them have already been created for every taste and color. However, the Boston Dynamics voice acting for World of Tanks 1.22.0.2 is not the case. The popular video blogger Yusha (known for his multipack from Pro Tanki) has been working hard for the last month and a half to create a new mod for the voice acting of the game and is now ready to introduce it to other players. Since he originally created it exclusively for himself, it is possible that is why the output was very high-quality, well-balanced and unusual modification of the voice acting. It was created using a speech synthesizer and it was painstaking work.
The author will continue to do this dubbing, continuing to do it for himself. The number of phrases pronounced in battle will constantly increase. In order for you to better experience the atmosphere in which the sound was recorded, Yusha for example cites the relationship of Bender and Fry from the famous American scientific animated series Futurama. That is, as if an artificial person who hates humanity wants to enslave him, but at the same time he feels warm feelings for the tank commander. He wants to enslave humanity, but he wishes you the very best. He can tease you in every way, say that he is disappointed in you, for him you are a primitive creature and treat you like your favorite dog. He loves you, but at the same time he realizes that he thinks faster. He will help in the battle, talk about the glare, where the shell hit the enemy's tank, if it was critically damaged. Sometimes he will cheer and say don't be upset, and sometimes he will say that he could do it better. The voice of Boston Dynamics for WOT not only gives some phrases, it also gives a lot of useful information in the battle, monitors the time of the battle, considers your frags, watches achievements and so on. At the time of release, about 400 phrases were added to the mod in a month and a half, while the effect was added to the phrases as if they were heard in tank headphones.
Video
Installation
Copy the mods folder to the World of Tanks folder.