Sound Mod "ThunderGuns" for World of Tanks 1.23.0.0
Changelogs
Description
Our game is already very many years old and many players have spent a lot of time in it. Over time, many players feel that the game is still fascinating, but the sounds and interface are already a bit tired, I want to try something new.
Especially for those players who are not satisfied with the standard voice acting WoT, there are many very high quality voice acting modifications that allow you to completely change the sound component of the game. One of the best is the Sound Mod "Thunder Guns" for World of Tanks 1.23.0.0, replacing the crew voice, the sounds of guns and tank engines, as well as the sounds of projectiles.
If, moreover, you are also the owner of good acoustics - you can fully enjoy the high-quality sounds that the creators of the modification have worked on.
A full replacement not only sounds of shots, but also other sounds in battle allow you to take a completely new look at your favorite game.
In order for you to experience all the advantages of this voice acting as much as possible, we recommend that you set the optimal sound settings in the game client as in the image below: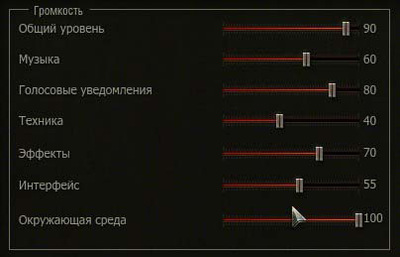 Video
The shots of the guns of his tank and the tanks prodinika, as well as the tracer and voice:
Sounds of hit guns with explosions:
Installation
Copy the mods folder to the World of Tanks folder.