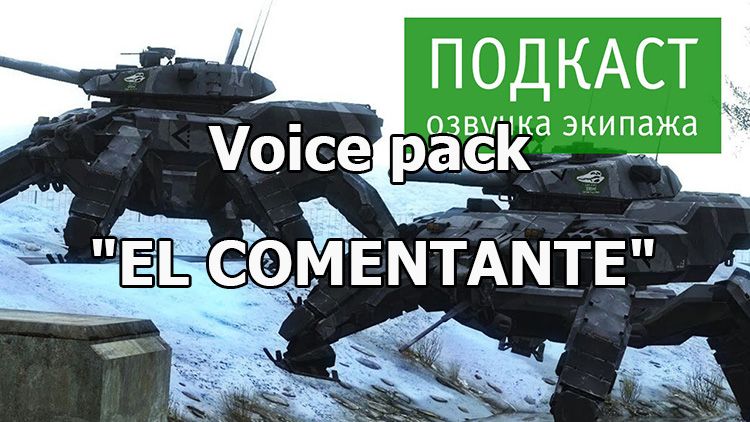 Voice pack "EL COMENTANTE" for World of Tanks 1.22.0.2
Description
Many players of World of Tanks often wrote about the need to allocate Victor Usepusev's voice acting, also known as the Voice Pack "EL COMENTANTE" for World of Tanks 1.22.0.2, in a separate archive. Since up to this point it was available only when downloading ProTanki multipack.
The author of this voice acting, Victor Usepusev, also known as EL COMENTANTE, became known in the community of tankers thanks to his activities on Youtube, where he initially laid out records of the battles voiced with a twist in his own author's style, thanks to which he deserved the love of many fans. And therefore the players need for its author's voice of the crews and in-game events is not surprising. All the replicas are thoughtful and funny, and their coloring will not let you get bored for a long time.
In addition, this is one of the most extensive and varied voice of World of Tanks. Initially, this set was collected about 50 basic phrases, but over time it grew and developed and at the moment, users can hear more than a hundred options for unique phrases.
In addition, in the new version of this modification, it was adapted to work in the 1.22.0.2 update, and also added new versions of phrases. And at the moment the work on this mod does not stop.
Video
Installation
The mods and res_mods folders are copied to the World of Tanks folder.