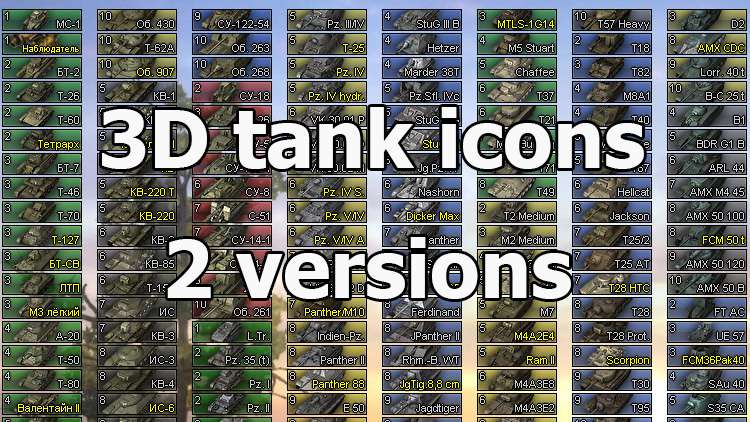 2 versions of 3D tank icons for World of Tanks 1.22.0.2
Description
Three-dimensional icons were one of the first modifications for the World of Tanks client and deserved such popularity among the players that they are still being updated. Surprisingly, these icons are one of the few that are in demand among WoT players today, considering how many modifications.
At the same time, your attention is provided with full 2 versions of 3D tank icons for World of Tanks 1.22.0.2. In the first variant, a colored plate against the background of the tank image is used for a clearer distribution of tank icons by type of equipment. In this case, a yellow background is used for medium tanks, a green background for light tanks and a red one for artillery and a gray one for heavy tanks.
Such a selection is very useful in combat, as the colored symbols make it easy to navigate the command setups, which is especially useful at the end of the battle, when it is important to know exactly who remained with the enemy. In addition, premium tanks are excellently visible in the teams' lists, which is also sometimes important, considering how many dangerous ones there are and vice versa who are unable to seriously resist premium machines.
In the second version, for those who are less informative, for the sake of the strictness of the interface, three-dimensional icons are available, which show only tanks and their level, without a colored substrate and highlighting premium tanks as icons with gold coins.
In the archive, in addition to the icons themselves, you will find files that correct the mirror image of the icons in the command lists, as well as icons for use with the XVM modification.
Screenshots
Installation
File with icons of tanks in the folder World of Tanks/mods/1.22.0.2/