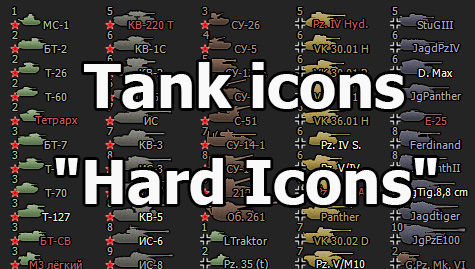 Tank icons pack "Hard Icons" for World of Tanks 1.23.0.0

Description
Your attention is given to one of the most famous tank icons pack "Hard Icons" for World of Tanks 1.23.0.0 from user Andrey_Hard. These icons should definitely appeal to lovers of his work, as created in the likeness of Hard Icons, which are deservedly considered among the best and appreciated by thousands of players. This is a set of technology icons made in a fairly minimalist style and separated by different colors depending on the type of technology.
Silhouettes of light tanks are displayed in green, medium - in golden yellow, heavy are displayed in a mouse gray tint, well, artillery installations are well distinguished by their brown tone.
In addition to the basic version of the icons in the archive, there are a couple of its variations - with and without the display of the level of technology, with text captions and with the levels displayed in Roman numerals.
To install these icons in the client, you only need to copy the mods folder from the archive to the game folder, and if you are not using XVM, then in order for the second column not to be mirrored, you will also need to copy the files from the folder for image mirroring.
Screenshots
Installation
The mods folder is copied to the World of Tanks game folder.