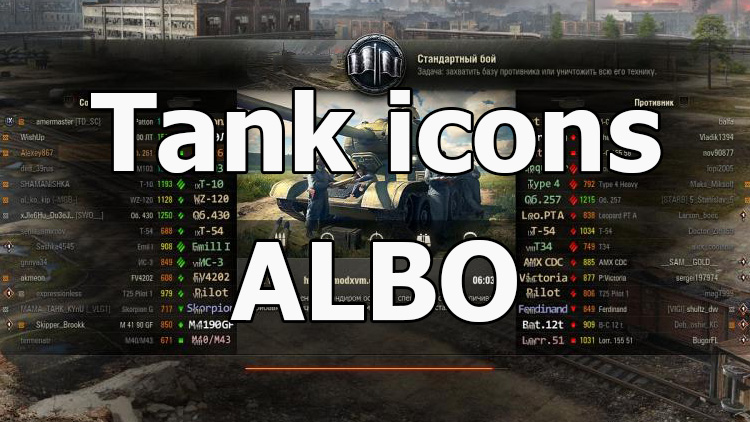 Simple text icons of tanks "ALBO" for WOT 1.20.0.0

Описание
What is required from the icons of equipment in the "ears" of commands and the boot screen in the first place? Of course, their intelligibility, readability and fast comfortable perception as a whole. Properly selected and familiar icons allow you to quickly evaluate team setups, determine your tactics for the upcoming battle, the direction of the attack, and mark the enemy's vehicles that you'd like to avoid.
The creator of the modifications Alexey867 approached this issue with radical minimalism. Simple text icons of tanks "ALBO" for WOT 1.20.0.0 presented to your attention is a package with a maximum emphasis on textual names of tanks, and not their silhouettes. The text size is several times larger than the text size of standard labels, which is especially convenient if you play from a long distance from the monitor. In addition, given the number of tanks entered into the game by 2018, silhouettes alone are not enough for the accurate identification of all vehicles in the list of tanks. The presented set of icons allows you to clearly read the names of cars, even from a distance of several meters from the monitor.
Installing these icons is no different from similar ones.
Screenshots

Installation
The file of the desired version of the icons is copied to the World of Tanks/mods/1.20.0.0/ folder