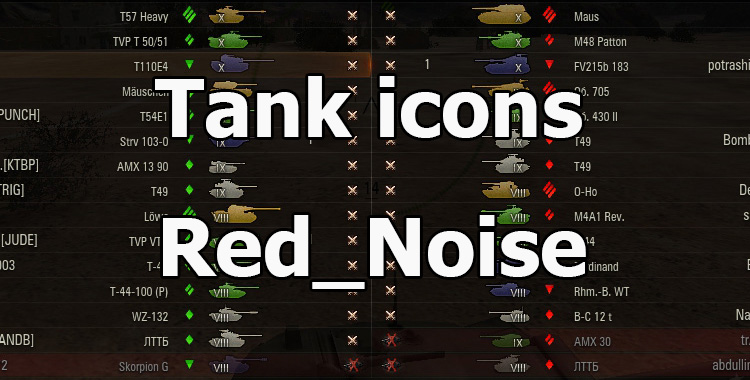 Contour colored icons of tanks from Red_Noise for WOT 1.23.0.0
Description
The modification presented to your attention this time is one of the oldest and still relevant today, because customizing the icons of tanks in the ears of teams in battle is one of the first things that almost every player faces, even if he doesn't use the client's modifications. games as such. After all, each of us is accustomed to certain sets that make it easier to navigate in the composition of the teams and the surviving machines.
Contour colored icons of tanks from Red_Noise for WOT 1.23.0.0 - representatives of the classic World of Tanks icons, made in pastel, nice looking colors. You probably met them in multipack from ProTanki, and this is an indicator of the quality and convenience of this modification. All types of equipment are clearly visible by the color of the icons, and premium tanks are marked with golden inscriptions, which allows you to quickly find out their number in battle.
Also, the performance of this modification was tested in the current version of the client of the game World of Tanks and it was adapted for better performance.
To install this modification, you will need to unpack the downloaded archive and copy its contents - the "gui" folder to the res_mod folder/1.23.0.0/ inside your client of the game World of Tanks.
Screenshots
Installation
Copy the mods folder to the World of Tanks folder.