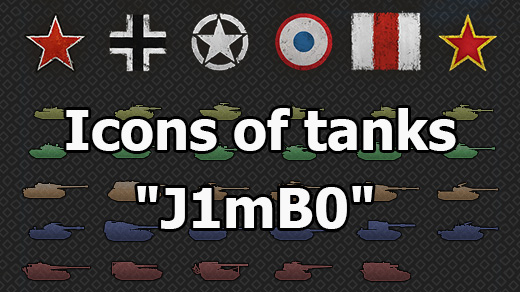 Icons of tanks "J1mB0" for World of Tanks 1.23.0.0
Description
The World of Tanks tank icons are such a basic example of client modification that many players already don't pay attention to this seemingly trifle. However, if you are trying to play deliberately and plan your tactics in advance, then the ability to quickly navigate the setup of your team and your opponent's team is far from superfluous! And here what set of icons you choose will play the role and how much you will get used to it. Icons of tanks "J1mB0" for World of Tanks 1.23.0.0 - one of the examples of the most minimalistic icons that are displayed in the form of colored contours in profile, which is somewhat similar to the basic icons of the World of Tanks game client. All graphics are made at a high level, besides many tanks have a unique memorable silhouette and are easily recognized by similar icons in the "ears" of teams. A nice distinctive feature of this pack is also the opportunity to choose a set of icons with the level of technology, which gives you even more important information in battle.
The author of this archive J1mB091 is notable for the high quality of its modifications for WOT, and therefore you can be sure of the high level of performance of the icons provided to your attention.
Screenshots

Installation
Copy the mods folder to the World of Tanks folder.